Mobile has a tremendous impact has been recognized, and we have begun to evaluate it as an essential part of the business, but we must also reassess how Studies show the number of people using mobile surpassed those using desktop by approximately 200,000 people between 2014 and 2015. This surge in use earned 2015 the name 'Year of Mobile.'
What is crystal clear here is that customers prefer to shop and interact with brands in a mobile environment rather than other channels. So, if your mobile game is not strong, your customers will seek a more intuitive mobile shopping experience with one of your competitors.

Strategies:
1. Pre Releases and Launch Releases
This is a important to do and want to keep a actual user base. Upgrade features to your app often. Word of mouth is the best way to market your app, hands down, so don't be afraid to tell your customers about it!
2. A Unique Mobile Offering
It could mean focusing a specific group of user or customers, or it could mean offering features that no other app offers. In some cases, it could sense both. Make sure your app has something to offer that your competitor's mobile solutions do not, and you'll guarantee a user base. Make your app offering stand out to your customers.
3. Optimize for the App Store
This one is very important. Just like search engines, you want to be able to be found when users look for apps like yours. You want to be the top result lead. You do this by utilizing the right keywords, titles and descriptions. Make sure your app comes up when relevant search topics are searched for. App store optimization is most important, because without it, users may not ever know the app exsistence.
4. App Desirable Name
The name of the game is implementing functionality into your mobile app that your customers will actually benefit from. Avoid creating an app just to have a billboard of your company in the app store and instead create an app that will show real utility to your customers.
5. Promote Across Social Media
Engaging in social media and using calls to action is also a really smart idea when marketing your app. Focus on letting your existing audiences know that you've developed a mobile app with real useful functionality or content and they will surely check it out.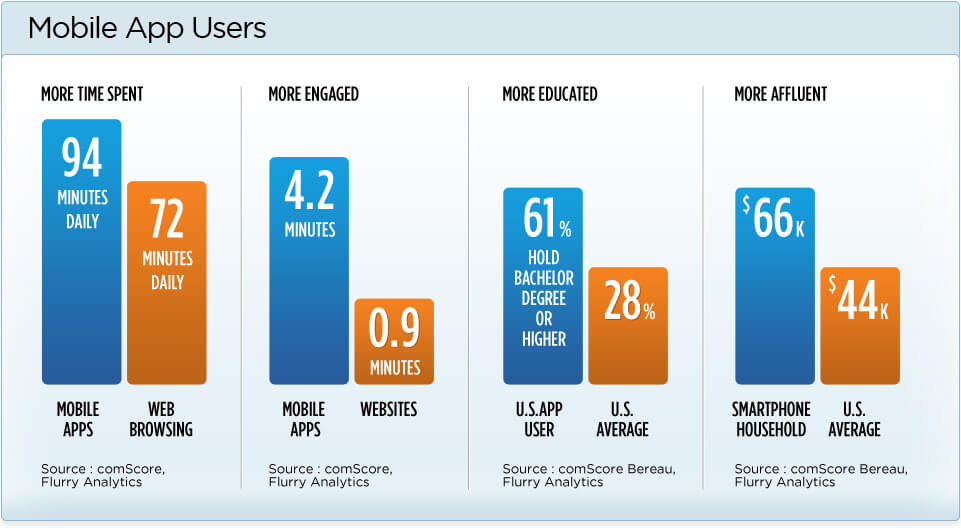 Mobile Application Marketing Success
We are the leaders in mobile application marketing. Our talented team work hard to ensure that our customer application yields rich dividends in the future. Our Skills, Experience, Innovation, Creativity, and useful resources make the difference.